Feeling Festive Set Limited Edition
48 Microdrinks · High-Quality Bottle · Incl. Gift Box & Candle
🎁
Free Gift for Orders Above $60
🚚
Our standard delivery time is 3 - 5 business days.
Borosilicate Glass Bottle
Unwrap the season of cheer and goodwill with our exclusive Feeling Festive Set—one bedecked with all the essentials needed for both at home and on the go. Shine brighter than a festoon of fairy lights with our ORO Glass Bottle, a variety of Microdrink flavors, and a seasonal soy wax candle, plus a Limited Edition Gift Box illustrated with a festive-inspired design.
48 waterdrop® Microdrink hydration cubes
• 1 x BREEZE, 1 x SKY, 1 x SNOW & 1 x YOUTH 12-Pack
• Natural fruit and plant extracts
• Valuable vitamins
• Calorie-free
• Sugar-free - suitable for people with diabetes
• No artificial preservatives
• Gluten-free
• Vegan
• Store away from heat and light and in a dry place
1 x ORO Glass Bottle
• Drinking bottle made of robust and odorless borosilicate glass
• Capacity: 20 oz
• Dimensions & Weight incl. Stainless Steel Cap: 9.5 x 3in; 14 oz
• High-quality and extra-tight cap made of stainless steel
• Heat-resistant and scratch-proof
• BPA-free
• Fits perfectly in the hand thanks to the innovative Soft Square shape
• Very easy to clean thanks to extra large opening
• Care: Glass Bottle is dishwasher safe. Gently hand wash cap.
• Not compatible with All-Purpose Lids
• Incl. protective and insulating cover*
*The sleeve has a small hole at the bottom that allows you to place the bottle in the protective sleeve more easily – pure physics.
1 x Scented Candle
• Soy wax candle with essential oils
• Weight: 12.5 oz (packaging excluded)
• Dimensions: 3.25 (L) x 3.25 (W) x 2.8in (H)
• Presented in a porcelain vessel
1 x SNOW Gift Box
• Gift Box in a festive design
• Magnetic folding closure
• Dimensions: 10.5in (L) x 7in (W) x 3.5in (H)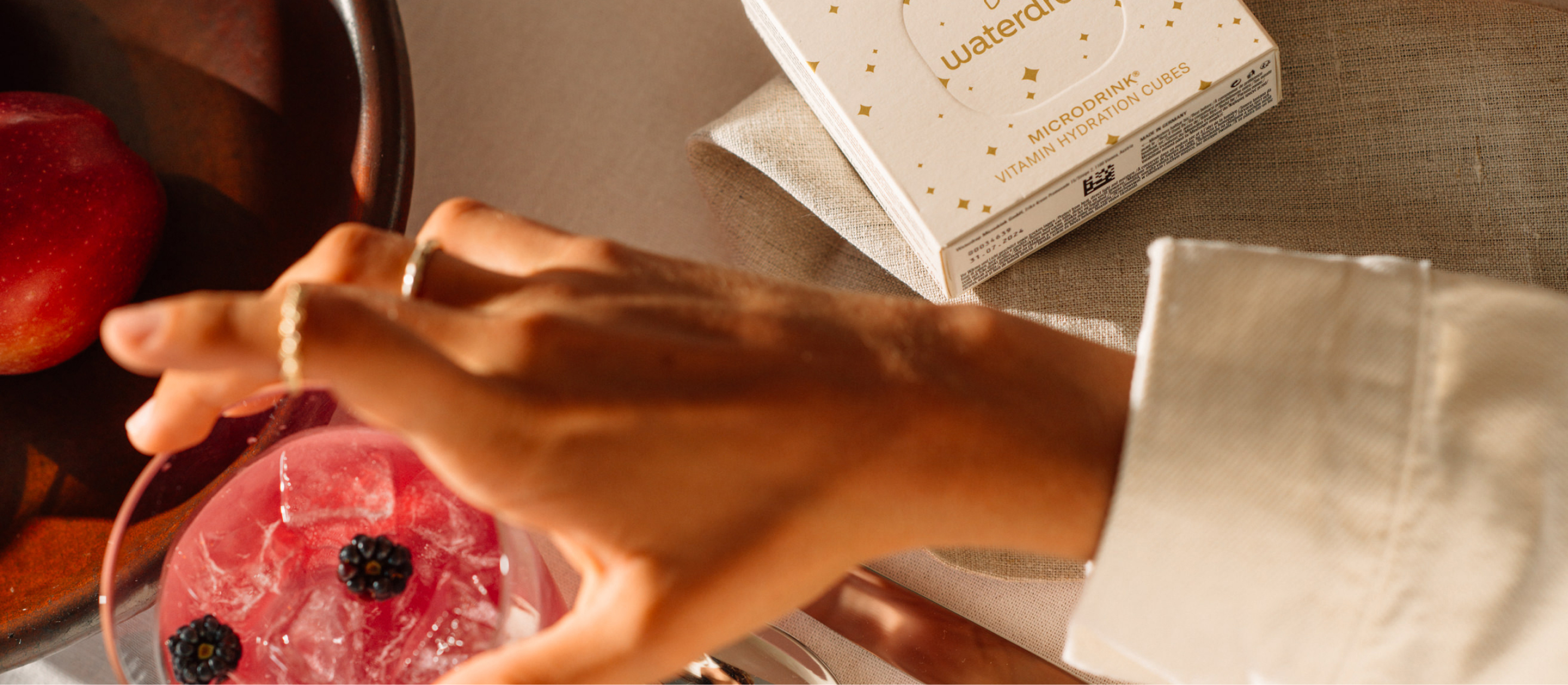 "Totally love the taste and the convenience! Will definitely be keeping this in my daily routine."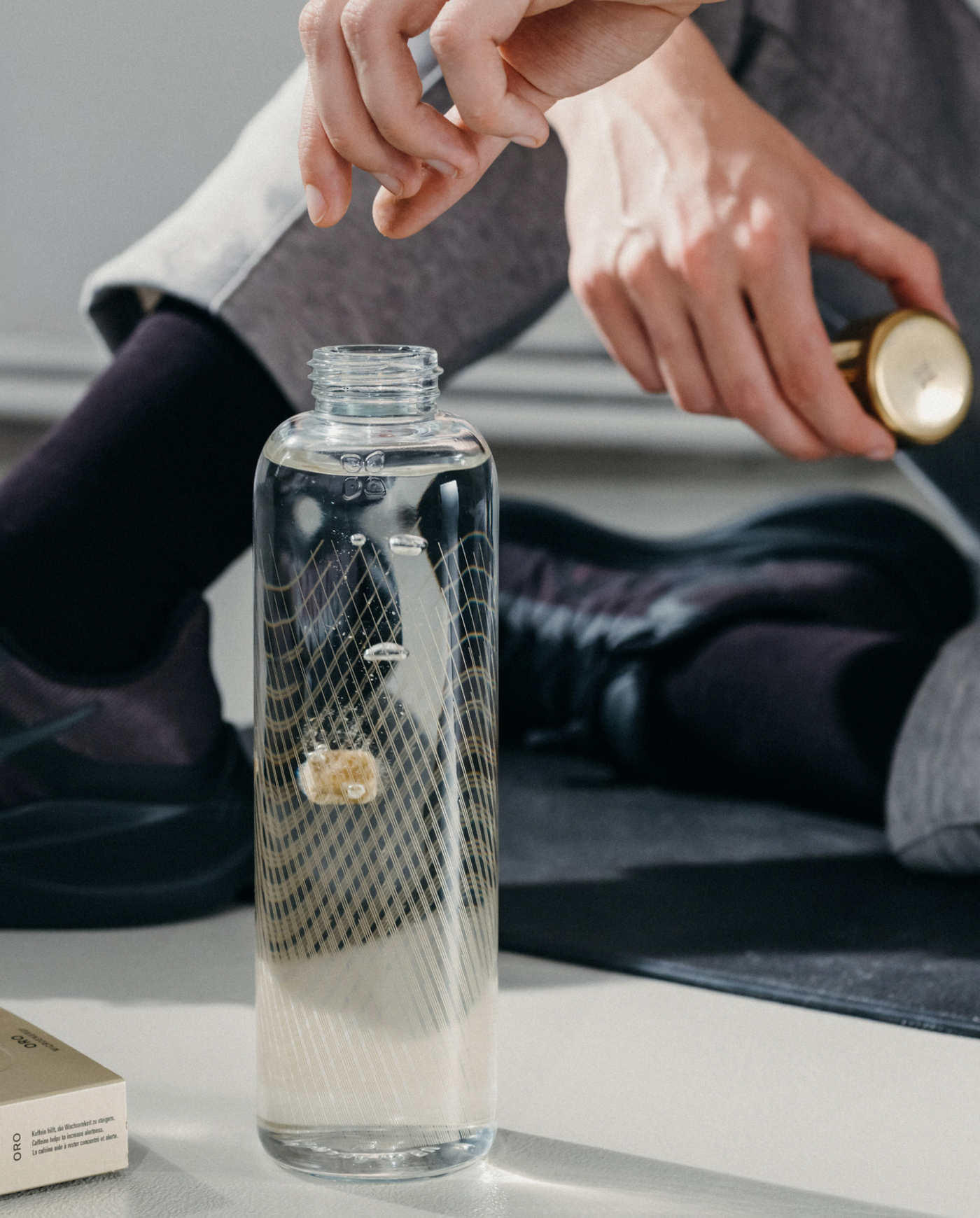 HOW DOES WATERDROP® WORK?
Water. Drop. Enjoy!
A waterdrop® Microdrink is a small, sugar-free cube that adds a burst of fruity flavor to your water in just 3 easy steps:
Dissolve the cube completely
Enjoy your fruity refreshment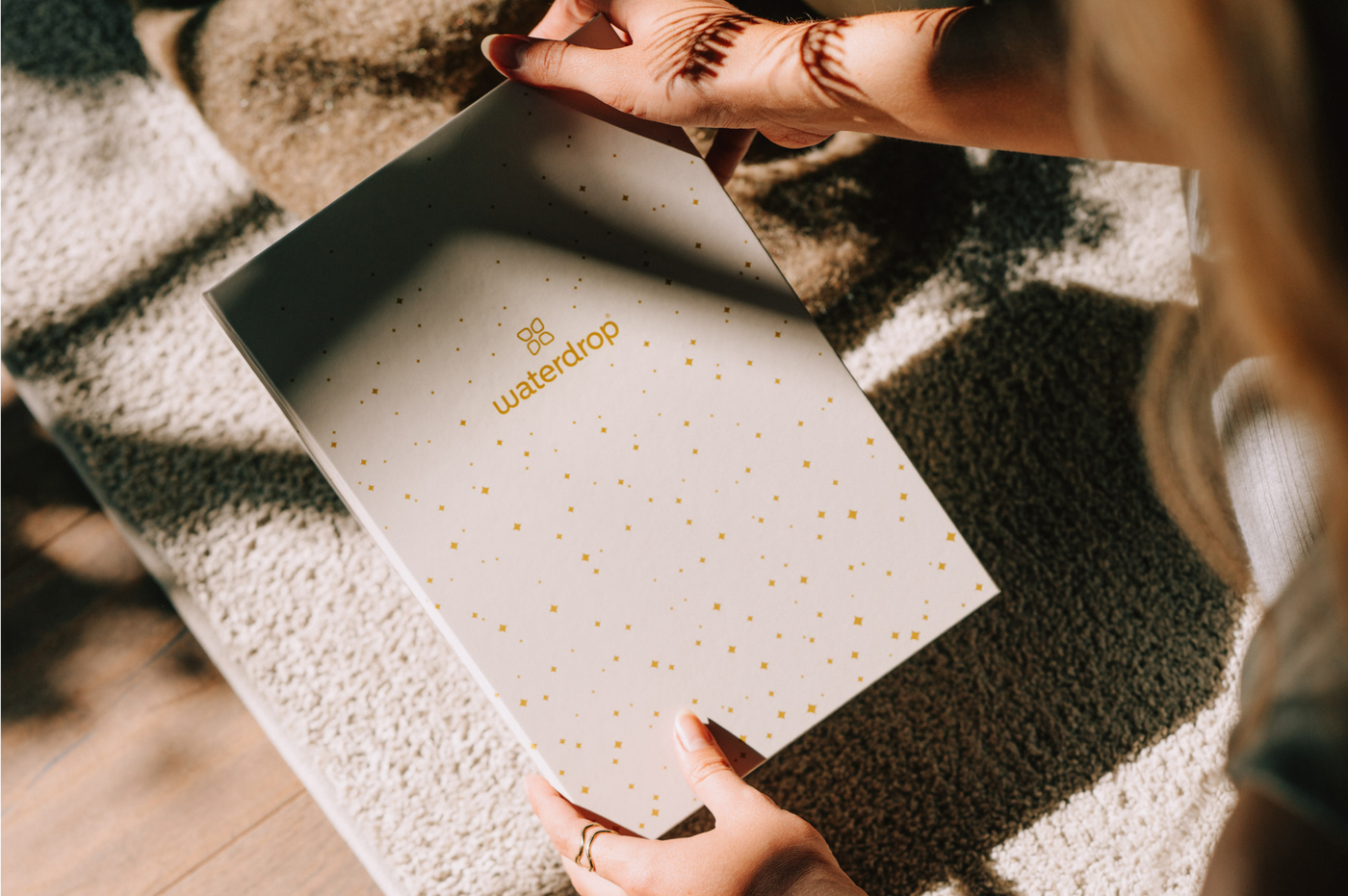 Unbox a real good time
Sample, savor and celebrate all-things hydration with this exclusive set specifically designed to help you drink more water throughout winter—and beyond. Presented in a Limited Edition Gift Box, discover the joy and convenience of sugar-free flavor at home, on the go, and anywhere in-between.